WHAT ARE BRACES
Dental braces are appliances that are utilized to adjust or fix the teeth and guide the teeth to the proper occlusion position. They are comprised of wires, sections, and groups. Braces help to correct irregular teeth positioning, jaw adjustment, improvement in biting, and improve smile. Your dental specialist is the best individual to manage treatment alternatives and modalities relying on the dentition.
WHEN DOES ONE NEED BRACES?
The significant purpose behind getting Braces on is to improve the facial appearance, what individuals can be sure of is that there are whatever other implications that require orthodontic treatment like irregular crowded teeth, open bite, jaw structure, cross bite, etc.
WHAT IS THE PROCEDURE OF GETTING BRACES?
First of all: remember to brush and floss before you get your braces on! The procedure itself is easy for most people. Your holding appointment may keep going for around two hours.
Your orthodontist will begin by inserting a device to keep your mouth dry and your tongue set up. At that point, the person will dry your teeth and apply an etchant to make the tooth surface perfect for bonding. Next, the braces will be put on your teeth utilizing a unique glue to hold them set up all through your treatment. A curing light will solidify the cement and set the bond. At last, the orthodontist will run the archwire through the braces and hold it set up with ligature groups (except if you have picked self-ligating braces, which needn't bother with extra bands). And, that is it!
WHAT IS ADULT DENTITION?
This is where grown-up teeth or changeless teeth replace primary teeth which help in appearance, speech, and digestion. During this stage, individuals can confront numerous issues that can be remedied by braces. These issues include:
Crowding/Aimlessly positioned teeth can prompt helpless oral cleanliness and can likewise be the explanation behind Dental Caries (cavities)
Improper Bite that affects biting efficiency
Crooked teeth which can be a significant reason behind periodontal issues, for example, Bleeding Gums, Halitosis (Bad Breath) and Tooth Mobility (Untimely loss of teeth)
If the teeth are irregular, then it can cause calculus deposits prompting yellow teeth
Forwardly positioned/Proclined Teeth which lead to more convex profile and posteriorly displaced jawline
Open Bite
The spacing between teeth which can cause discourse problems
WHAT IS MIXED DENTITION?
This is a stage when one has a mix of both essential and perpetual teeth in the mouth is called Mixed Dentition. Wearing Braces in this stage cure the accompanying issues:
Jaw Growth issues at this stage can be remedied in a non-intrusive way which may later require surgical rectification
Treatment of crooked teeth. This needs to be treated during the beginning phase else it will influence a child's psychology
WHAT IS THE RIGHT TIME TO GET BRACES?
Each individual is extraordinary. Orthodontic treatment can be started as young as 7 years of age. There is no Upper limit as far as an age for Braces.
If you have great oral health and firm teeth, you can get braces at any age.
There is various kind of Orthodontic treatment accessible for all ages.
CONSEQUENCES OF NOT GETTING BRACES
Misalignment of the jaw may bring about abnormal stress on gum tissue and harm deep down that supports the teeth. Bite issues may cause trouble in biting, which can prompt tight and stressed muscles and regular headaches.
WHAT TYPES OF BRACES ARE AVAILABLE?
Metal Conventional Braces:
These are the traditional and most common kind of braces. The metal braces utilized today are considerably more comfortable and littler in size. These require elastics that arrive in a variety of colours to attach the wire to the braces. The wires utilize your body warmth to move teeth all the more rapidly and less painfully. There is no age limit joined to these, as patients of any age can decide to fix their teeth utilizing metal braces.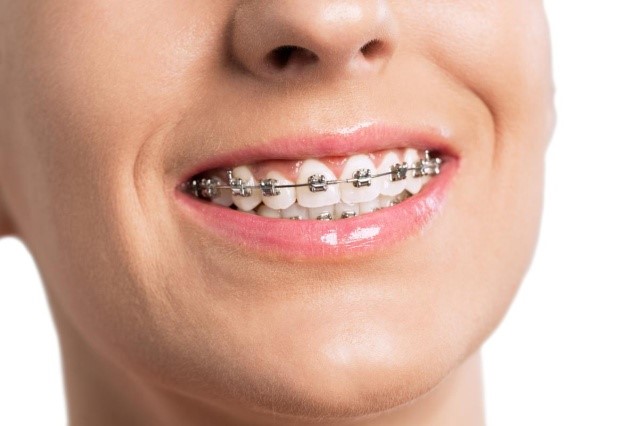 Metal Self Ligating Braces:
These are metal Brackets with a shutter or lock system and don't require the utilization of flexible to tie the wire. In contrast with conventional metal braces, metal self-Ligating braces are increasingly agreeable and littler in size. These are useful in achieving curve expansion and limit the requirement for extraction.

POST TREATMENT CARE FOR BRACES
Brush and Floss two times per day to keep your teeth healthy. Healthy teeth react better to the treatment.
Visit your dental specialist on schedule for follow-up checks. Make a note of your appointments and follow recommendations, assuming any.
Show restraint. The treatment term may change contingent upon the case. The teeth will set aside the effort to modify in like manner.
DO'S AND DON'TS WITH BRACES ON
DO'S
Try and maintain a strategic distance from clingy food like gum or caramel
Ask for a mouth guard, if you play a game
Consume drinks which are low on sugar content and not carbonated
Brush after each dinner and never let food stuck on your braces
Visit your dental specialist on each follow-up
DON'TS
Don't bite hard food and nuts
Do not bite your fingernails
FREQUENTLY ASKED QUESTIONS
Q.1. How Long Does It Take To Put Braces On?
In the wake of holding the dental braces, it takes around 1-2 hours for the procedure to finish.
Q.2. Are Teeth Extracted For Orthodontic Treatment?
For the most part, orthodontists don't suggest tooth extraction for fixing teeth braces. However, if there is a genuine crowding issue, a some of teeth should be evacuated.
Q.3. What Color Braces Should One Get?
There is a variety of braces accessible, and it relies upon the patient getting them. If the patient wishes so, they can even get transparent braces too. For more information on what kind of braces will be increasingly appropriate for your necessities, visit a Dental expert at Green Park Dental Clinic.
Q.4. Are Braces Painful?
No, getting or having braces isn't painful. In any case, slight uneasiness and touchiness are regular after getting them. Aside from this, metal braces may feel to be somewhat close in the wake of getting them corrected on a subsequent visit to the orthodontist.
Q.5. How Long Do One Need To Wear Braces?
The all total span of wearing dental braces relies upon different elements that incorporate the state of teeth and consistence to oral consideration rehearses. As a rule, the length may change from 6-18 months.
Q.6. What Can You Not Eat With Braces On?
While wearing dental braces, one should maintain a strategic distance from any carbonated beverages, clingy food, and crunchy foods or peanuts and include ice and popcorn.